Hello! Welcome to the official Esypro website. In case you do not know us yet, we are a company specialized in internal logistics systems.
We are experts in the development and application of modular and reconfigurable transport and storage systems. We focus on hanging parts, like monorail and power&free conveyors, as well as storage and JIS (just in sequence) solutions.
We have three products designed specifically for the needs of our clients:
Esyconveyor: Overhead power&free and monorail conveyors moved by rope
Almaflex: Storage and manual management of parts linking its different production processes with the storage, and even the transport to final destination.
Esyair: Storage and automatic management of hanging parts, with a system capable of provide real-time information on the status of the systems and the loads.
Now that you know more about our products, we would like to show you our newly website and blog. We hope you like it and the content is useful to you.
Check out the different pages to learn more. In the Company area you have in detail our history and you can even meet many people of our team.
In addition to our web page, we have a few more premieres to do… New logo! One of the main design goals for our solution is the simplicity. That is why we want to always keep it in mind with a new slogan: Simple is better.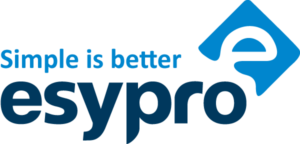 What do you think about it? Do you like it?
Follow us in our Linkedin to stay up to date with everything we are doing at Esypro. We are looking forward to find you there.