ESYCONVEYOR
Rope Driven Conveyors
ESYCONVEYOR is a modular overhead conveyor system that can be used as Power & Free and monorail. Some of the different possibilities and advantages of the system are:
Drive is made by a rope without any lubricants.
Layout is 100% adaptable to the client needs by using horizontal, vertical curves as well as elevators.
Space optimization.
The system was devised and produced in aluminium profile, it has all the necessary elements for the flow control of the trolleys (stopping stations, elevators, track switches, transfers). It also has precise blocking device of parts to make possible robot or manual unloading.
A robust system
All our esyconveyor are driven by a rope. Its Kevlar core make possible the creation of a unique transport system. Its maintenance it is extremely low, and it works in highly corrosive environments such as welding isles with tight flows where stopping is not an option. The rope is made of aramid fibre, it withstands temperatures up to 400º C and it is 5 times more resistant than steel. This type of fibre is mainly used in nautical, aerospace and military applications as well as bulletproof vests due to its breaking strength. All this features with very low maintenance and with no need of using lubricants.
Availability ratio 99,9%
Maximum reliability
Clean system
No need of oils and lubricants
We help to optimize your processes
Our modular, integrated and adaptable system is designed according to the needs of each client. Its flexibility allows to transport and accumulate parts in FIFO optimizing the workspace.
Production times reduction
Cost saving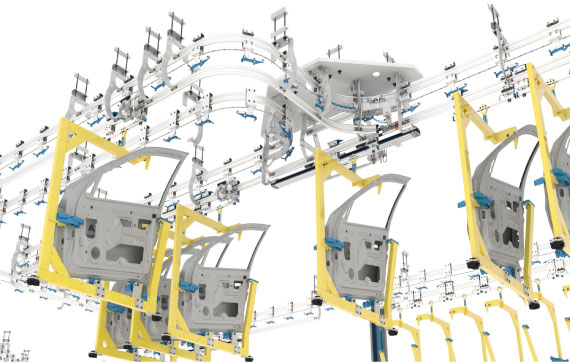 Would you like to improve your production processes?
General features
Easily configurable and reconfigurable
Reusable.
Low maintenance.
Clean system, no lubricants or oils.
Lightweight system made of aluminium profiles.
Multi-reference management by RFID or other systems.
Parallel flows management, for example using track switches.
Possibility of level change, with inflections or elevator.
FIFO Method
Adaptable to the required scope (mechanical, electrified, or turnkey)
Eco-friendly, we follow the principles of eco-design and sustainability using mostly recyclable materials.
Adaptable to the standards of each plant.
Specific studies of the load unit.
Highly competitive in our weight range.
Structure can be attached to ceiling or to the plant floor.
In constant evolution by our R&D department and always compatible with previous versions.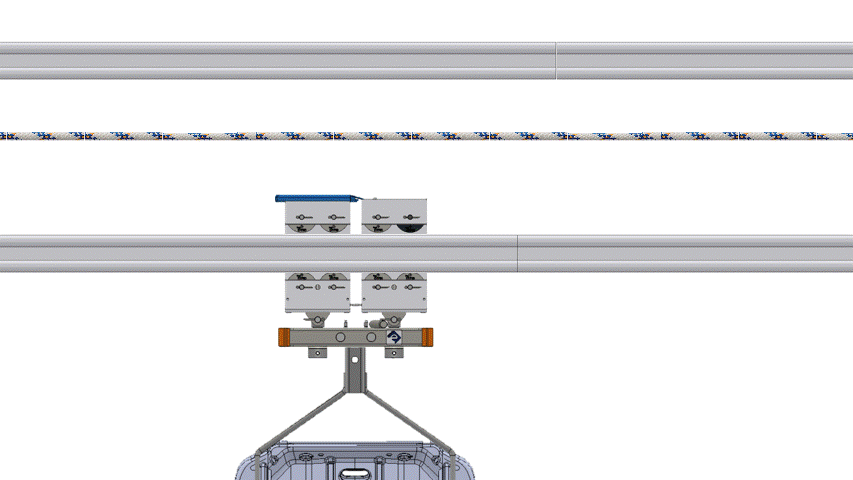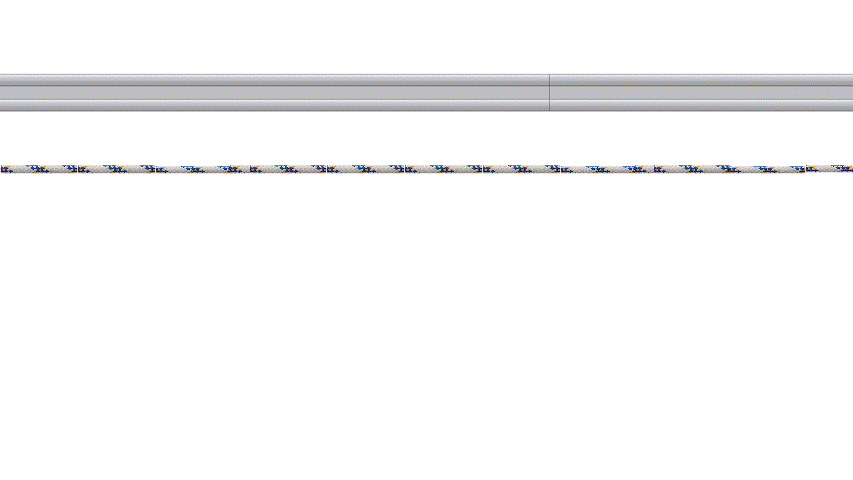 "Perfection is achieved, not when there is nothing more to add, but when there is nothing left to take away." Antoine de Saint Exupéry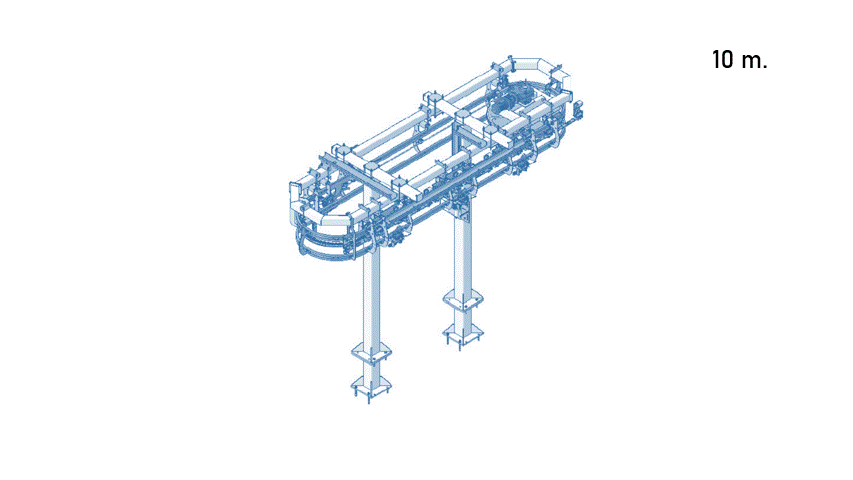 Esyconveyor enables installations of any size or configuration. It can even be extended after its installation. From small loops to supply a workstation to more complex installations in different levels, many references and parts positioning for automated loading or unloading with robot. We make complete studies considering all project features such as available space, part to be transported, required cycle time and we propose the most suitable and customised solution for our client.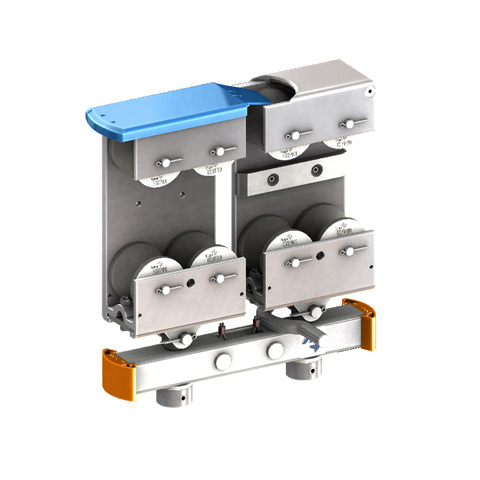 Trolley
Load unit Esyconveyor power & free
Available in different sizes and circuit directions
Case study Renault Curitiba
OEM located in Curitiba, Brazil required the transport of the left and right part of the Doublure. The factory works 24/7 and with an important saturation of facilities at all levels of the plant.
Two symmetrical turnkey P&F Esyconveyors were installed. The robot load is fed directly from the conveyor. In order to avoid the obstruction of an aisle, the Esyconveyor descends to the robot reach and the unloading is made with elevators that position the part so that the operator can pick it up using a manual handler.
It was an important engineering work with a complex assembly. Both conveyors share the platform and 100% of the structure is attached to the ceiling of the plant in a narrow space with many existing installations. Additionally, all works had to be carried out in 10-hour shifts during the night and at weekends, as the factory never stops.
Only one type of hook was designed, symmetrical, for the 4 different references that had to feed the production line in a limited time of 49 seconds for the robot load and 71 seconds for the manual unload.
Request for more informacion and quote