Today, we want to share with you a real case of a project carried out in the largest car plant in Portugal, Volkswagen Setúbal, where the T-Roc, Sharan, and SEAT Alhambra models are currently produced.
Transport and sequencing for Scirocco and Sharan
In 2009, the client approached us with the challenge of finding a solution for the transport and sequencing of the bodysides of the Scirocco and Sharan from robotic islands at the end of the production line to the assembly line. The project required not only the transport of the parts, but also the accumulation for one hour of consumption, the sequencing for the distribution of 60% of one model and 40% of the other, and the option of manual orders by the operator. All of this with a cycle time of less than 105 seconds and with loading and unloading performed by robots. We accepted the challenge and started the project in November 2009 with a multidisciplinary team of 13 engineers.
The available space in the plant was limited, with less than 3,500m2, and there were several obstacles, such as limited height and narrow aisles, that had to be considered in the conveyor design. There were also four different references to transport, being the left and right bodysides of both car models. In addition, there were two loading and two unloading points. The result was a half-kilometer-long Esyconveyor on a pedestrian platform, connecting the loading and unloading with four elevators.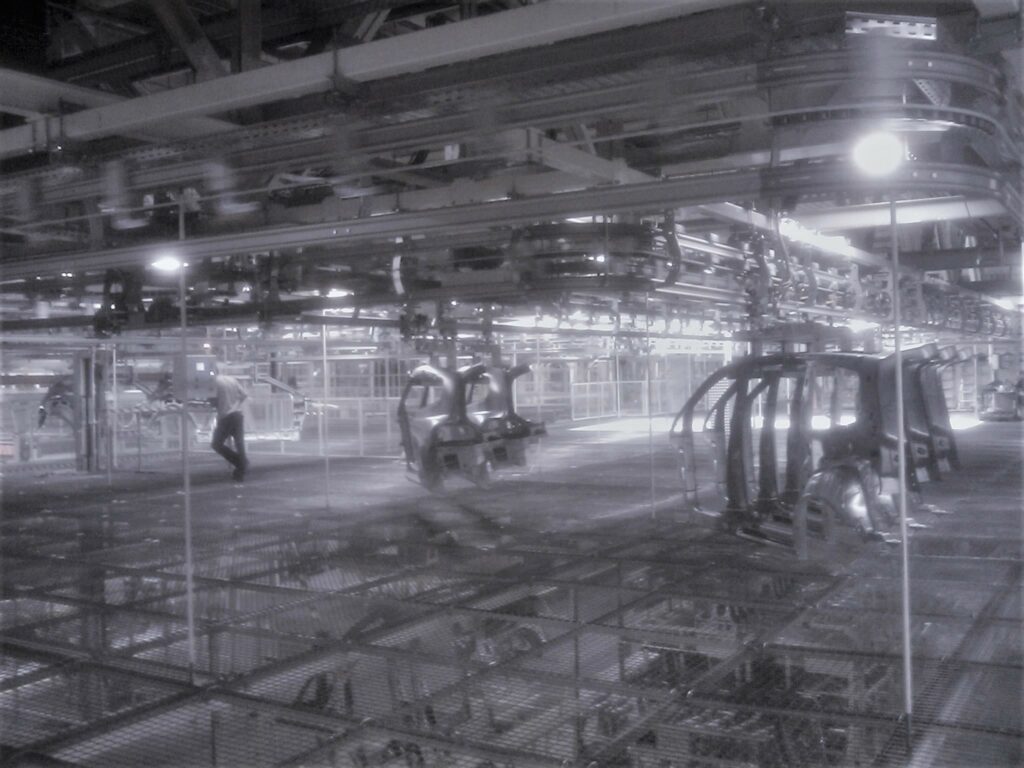 This project was a significant milestone for Esypro because it was the first time we designed a project entirely in 3D. Previously, we designed parts and elements in 3D, but the complete layout was usually designed in a 2D plan. This project was the first step in the modeling methodology we use today.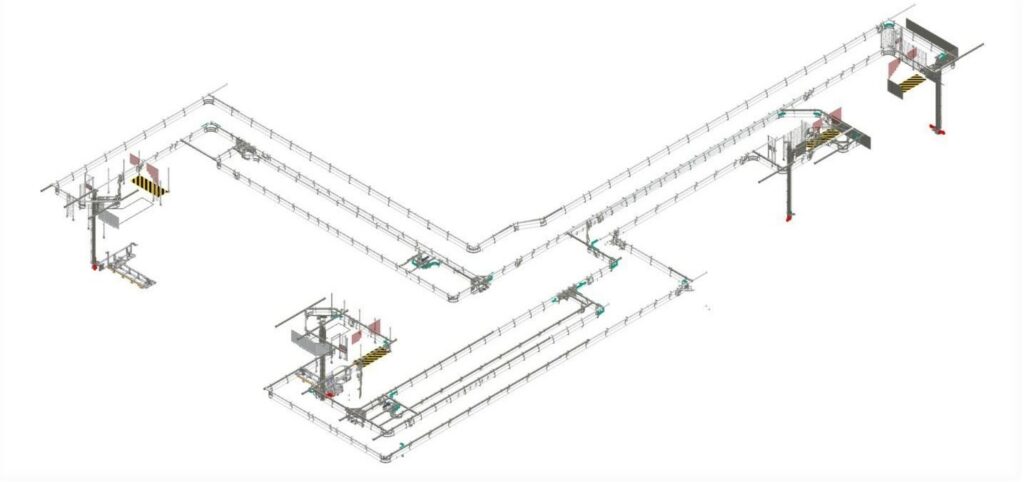 Adaptability and reconfigurability for the T-Roc
In 2013, Volkswagen Autoeuropa contacted us again to integrate the new T-Roc bodysides into the existing system. A new conveyor was proposed for the outer bodysides, and the existing Esyconveyor was adapted for the inner bodysides. Fortunately, our solutions are reconfigurable and expandable, which made adapting to a new car model a relatively easy task.
The new Esyconveyor for outer bodysides would be on a platform 6 meters high, very close to where the previous conveyor was now converted for all inner bodysides. This new Esyconveyor would have 2 loading and 2 unloading zones for left and right bodysides respectively, and all these zones equipped with elevators, allowing the parts to be incorporated into the circuit. For the modification of the conveyor for interiors, two additional loading zones had to be added for the new car model.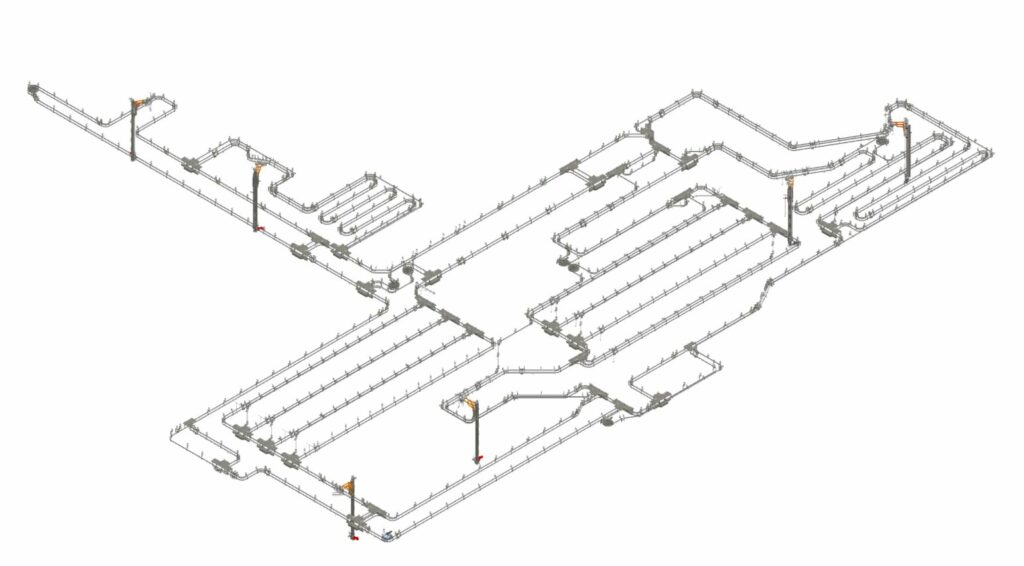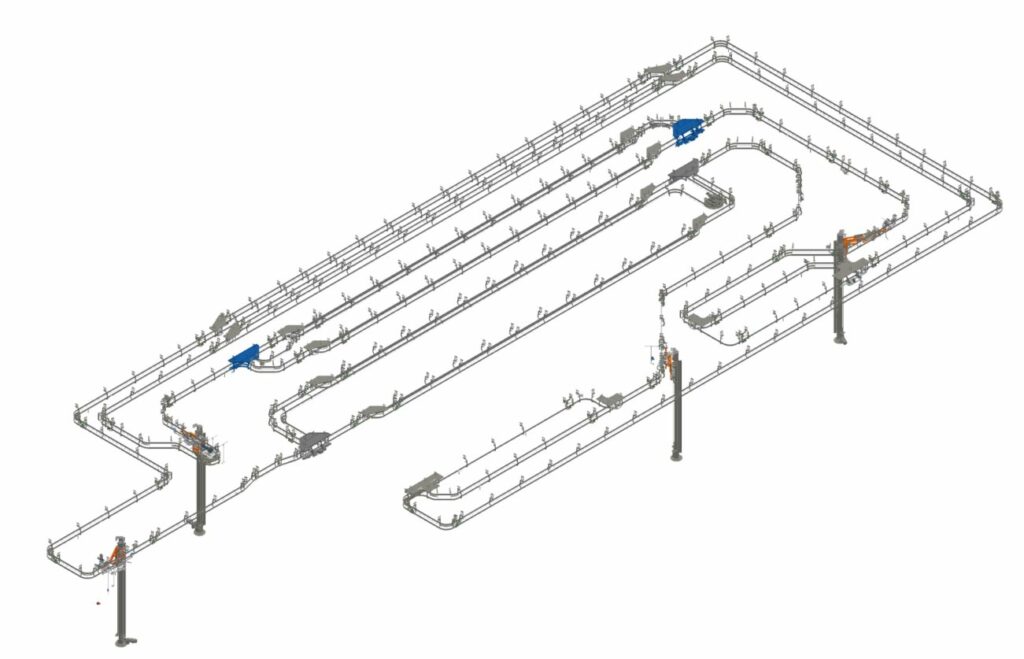 Esyconveyor: a reliable and long-lasting solution
In conclusion, the Esyconveyor has become a reliable, flexible, and simple intralogistics solution at Volkswagen Autoeuropa. With its modular design and the possibility of adapting to different needs, it has demonstrated its ability to evolve and adapt over the years. And the best part is that, after over a decade of operation, it is still the chosen side transport system for the plant, with exceptional performance and unparalleled reliability. If you want to see Esyconveyor in action, we leave you with this video: